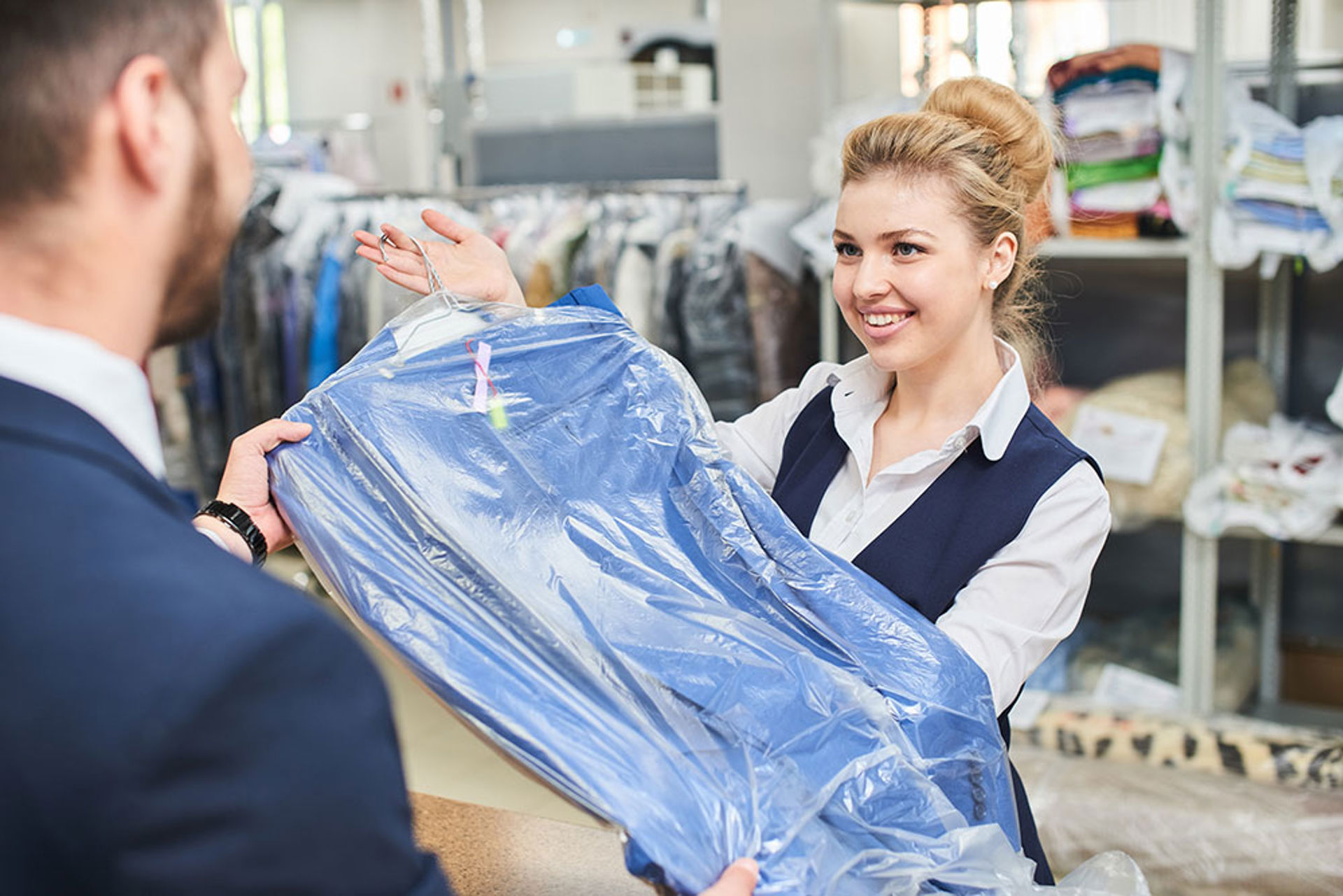 Dry Cleaning & Laundered/Pressing Service near Columbus
Columbus Express Laundry offers Dry Cleaning and Laundered/Pressing service based upon your needs. We are here to save our customers time. You can add your dry cleaning to your wash and fold laundry or to your pickup and delivery order.  We have a $15 minimum order when you drop off your dry cleaning at our wash and fold. There is a $25 minimum order when you use our dry cleaning pickup and delivery.  To ensure we identify your dry cleaning appropriately, please place in separate bag, and identify as Dry Cleaning.  For reoccurring customers, we have different color bags vis the service you are requesting.  If you would like a dry cleaning bag, please request dry cleaning bags if you prefer separately.
Our pricing structure is very simple:
Dry Cleaning near Columbus Ohio
Benefits of Using a Dry Cleaning Service
The benefits of using a dry cleaning service are numerous, from convenience and expertise to preventing insect damage and extending the life of your clothes. Before you consider using a dry cleaning service, you should take a look at your clothing's care label. While you can save a few dollars by washing them yourself, you may end up ruining your clothes and damaging your wallet in the process. However, there are many benefits of using a dry cleaning service, and we will discuss some of them below.
Convenience
When it comes to getting your clothing cleaned, a dry cleaning service can be your best bet. Many will deliver the items directly to your doorstep and give them a quick once-over. Other dry cleaning services offer additional conveniences like drop-off and pickup. Regardless of your personal preferences, a dry cleaning service will save you time and money. And, if you're in need of a special service or have extra items that need to be cleaned, they can do it for you!
Using a dry cleaning service also means that you don't have to worry about washing your clothes yourself. A dry cleaner will take the time to check every cloth, making sure it meets their high standards of quality. This will ensure that your clothing stays bright and clean longer. And you won't have to purchase new clothes as often, saving you money and time! Dry cleaning services also have the ability to clean a variety of types of clothing, including UGG boots and fur coats.
A dry cleaning service also provides a range of other services, including folding and stain removal. Professional dry cleaners also offer alterations to their clients, so you don't have to worry about whether or not you're going to lose a button or have to sew it back on. Plus, their staff will take care of all the dry cleaning chores for you. The convenience of using a dry cleaning service is worth the money.
Expertise
The expertise of a dry cleaning service is important for a number of reasons. These include good customer service skills and attention to detail. In addition, employees should be trustworthy and have a high degree of integrity. Since dry cleaning is a service oriented job, most employers hold high standards for their employees. However, some dry cleaning services may offer other services, such as regular laundry and alterations. Listed below are some of the advantages of a dry cleaning service.
One of the advantages of a dry cleaning service is its versatility. Depending on the type of work that needs to be done, dry cleaners may offer other services, such as pick-up and delivery. Some may also offer clothing alterations or regular wash and fold services. Some dry cleaning services are family-run, requiring a minimum of staff and a single location. To operate a dry cleaning service, businesses must comply with local regulations and obtain licenses.
Prevents insect damage
Using a dry cleaning service to remove and dispose of contaminated items is a great way to prevent further damage. Bugs are often attracted to certain types of fabrics, such as wool, mohair, natural bristles, fur, feathers, and down. Regardless of the fabric, there are certain methods to remove them. The first method involves vacuuming. If you have a vacuum cleaner, make sure to empty it of the infested items and dispose of them outside. Likewise, you can use freezing or washing clothes to kill the larvae.
Insect damage may appear as mysterious holes in clothing, which are not noticeable until the item is cleaned. It is common for wool fabrics to become damaged by moths, as well as other insects that feed on stains and sizings. Insect damage can be direct or indirect, depending on the type of fabric and the food substances. If the clothing has been stored for a long time, this problem is particularly likely.
Bugs attack clothing and fabrics in two ways: directly and indirectly. While they don't directly attack fabric, they feed on food residue, perspiration, beverage spills, and starch that remains on them. So, you should remove any food residue or crumbs from your clothing before storing it. Moreover, you should clean your clothes regularly to keep them fresh and free of unwanted pests. Using a dry cleaning service will also help you avoid attracting insects to your clothes.
While the pests are not attracted to light, they feed on dark, quiet areas of clothing and carpets. Luckily, they rarely infest clothes that are used on a regular basis. The larvae will feed on wool, silk, and feathers, so it is best to avoid them altogether. If you do decide to use your dry cleaning service, be sure to give it a thorough airing to get rid of any odors and stains.
While the best dry cleaners use state-of-the-art technology and tools to prevent insects, the best way to prevent damage from insects is to send your clothing for dry cleaning regularly. This way, the fabric is clean and free of perspiration odors, which can attract bugs. And when you send your clothes for laundry, empty your pockets. The food residue, perfume, or perspiration can cause pests to breed. Another great way to keep pests away is to regularly vacuum the entire home and dispose of the vacuum bag afterward.
Makes clothes last longer
One of the major benefits of using a dry cleaning service is that your clothes will last much longer. Unlike clothes that you clean in the washing machine, dry cleaned garments are not subjected to the harsh agitation of washing machines. They are also more likely to retain their color and texture. This means you don't need to purchase a new wardrobe as frequently. The dry cleaning process also saves you time, as you don't have to worry about ironing.
Dry cleaning has many advantages, including preserving expensive clothes. Designer dresses and special occasion outfits are especially vulnerable to damage, but dry cleaning prevents them from losing their beauty. Water causes clothes to shrink and lose color and may also damage the fabric. A dry cleaning service also prevents shrinkage and color loss, so your clothes will be restored to a "like-new" condition. It also helps preserve the shape of delicate pieces such as UGG boots.
You can save time - Dry cleaning doesn't require any special equipment, and you don't have to run to the laundry to drop off your clothes. You can schedule an appointment and have your clothes picked up at a time that suits your schedule. With so many benefits, using a dry cleaning service is the perfect way to clean your clothes without sacrificing your valuable time. These benefits make dry cleaning a great option for busy people.
Save time - Dry cleaning is a great choice for busy professionals who need their clothes to look fresh for a special event or meeting. It saves time and energy that could otherwise be used for other, more important tasks. Doing laundry can take up to two hours and is not the most efficient way to spend your time. Instead, dry cleaning is more efficient, cheaper and more convenient than any other method of cleaning.
Stain removal - Despite how much time you invest in your wardrobe, there are times when you just can't do it yourself. Stains can set in and cause your clothes to fade and lose their color. Professional dry cleaners can remove even the most stubborn stains and help your clothes last longer. Moreover, they can get rid of most odors so you won't have to deal with this problem.
For Dry Cleaning services - please ensure that you identify the bag with a label that identifies the bag as Dry Cleaning.  Dry Cleaning service in NOT eligible for Same Day service, and may lengthen your Wash & Fold items being returned by one day.