Laundry and Dry Cleaning Pick-Up & Delivery Service in New Albany, OH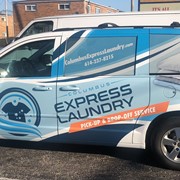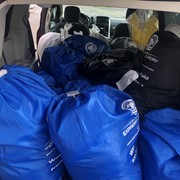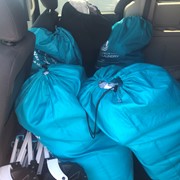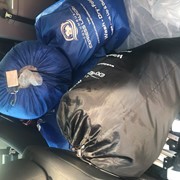 Try our convenient pick up and delivery service today. Perfect for busy families and individuals.
New Albany, Ohio - a town on the Northeastern border of Columbus that once started as a farming town with 4 way stop signs has now become a town which has hosted major golf events, including the Wendy's Tri-tour challenge.  There are walking and bike paths to enjoy that give you many options to be outdoors.  While outdoors, let us help with your laundry needs so that your laundry does not get stacked up and require your attention throughout the week. 
Columbus Express offers a variety of pickup and delivery laundry services in New Albany, OH and the surrounding areas. These pickup and delivery laundry services include wash & fold laundry, dry cleaning, and commercial laundry.
Columbus Express provides laundry pickup and delivery service in New Albany, OH and the surrounding areas. Our laundromat services the following New Albany zip code: 43054. Our wash and fold laundry service provides top notch service and the online scheduling makes it a snap to schedule residential and commercial orders.
While it may seem like a simple convenience, drop off laundry services offer many benefits to business owners. In addition to freeing up valuable time, these services offer peace of mind and reduced stress. If you have a demanding job or career, laundry is a tedious task, and using a laundry service allows you to enjoy more time for other things. In addition, drop off laundry services are a cost-effective alternative to home laundry and your opportunity cost.
New Albany OH Drop Off Laundry Service
Students, for instance, would much rather spend time studying than dealing with laundry. However, the weeks leading up to exam week can be extremely hectic. Using a drop-off laundry service means you can focus on your studies, not your laundry. Whether it's for a business or an individual, drop-off laundry services can be of great benefit. They allow you to schedule a pickup time with a drop-off service, ensuring that your clothes are clean and ready to wear as soon as you need them.
Another benefit of a drop-off laundry service is that you can leave your clothes with someone else you can trust. When you choose a drop-off laundry service, you can let them do all of the dirty work, leaving you with more time and energy. Professionals handle your clothes with the utmost care and efficiency, so you won't have to worry about quality or color-bleeding. And because the service is available around the clock, it's also convenient to drop off your clothes for them. The cost-saving factor of drop-off laundry services is huge. You don't have to buy a washing machine and tide pods or dryer sheets yourself. They are not cheap, and the load capacity is very limited. You'll also save time that you could otherwise devote to other activities. You'll be able to do the things you love without worrying about your laundry. Your time will be better spent.
Fluff N Fold near New Albany
The convenience of drop-off laundry services is a huge benefit to both the service and the customer. When you use a drop-off laundry service, you can reduce your household chores. The cost is also a huge plus because it gives you more time to do other things. If you have young children, you might have a lot of dirty clothes every day. Choosing a drop-off laundry service allows you to take advantage of this convenience without having to spend your money on laundry. These services provide convenient pick-up and delivery services. Unlike in-home laundry units, drop-off laundry services don't require any maintenance or extra staff. These services also offer superior quality and value for their customers. The only disadvantage is that you'll be paying for the service.
If you're in need of a laundry service, you can even use our pickup and wash dry fold service, where we pick up your clothes, clean them, dry, fold and deliver right to your door. This convenience allows you to focus on other things. For example, you don't have to worry about doing the laundry. Simply schedule a drop-off location with the service and leave your laundry there. If you want to be completely hands off, you can arrange a time and place for the service to pick it up. Using a Drop Off Laundry service is a convenient option for those who don't have time to do laundry. You can drop off the dirty laundry and be on your way in minutes. Your clothes are cleaned and folded in no time. They will be delivered in a timely manner, so you can relax and enjoy your time. These services are an excellent choice for busy business owners and individuals.
Saving time is another big benefit of using a Drop Off Laundry Service. You can save time and energy by outsourcing your laundry chores. Not only will you have more time for your family, but you'll also be able to enjoy more time to do other things. For instance, you'll be able to spend more time on other things. If you don't have the time to do laundry, you can leave it to the experts.
What Our Customers Are Saying
Very clean and the dryers work exceptional!
I love this place. Very clean and update. Friendly laundry attendant.
The updates and changes made are great, with new machines and an updated look, but still affordable. The owner is friendly and very helpful. Great place to do laundry.
I Love doing Laundry there, it has improved so much and attendants are always friendly and helpful.
I just took my down comforter out of the bag using your pick up and delivery service! Wow!!! How did your team get it so clean?? It looks like a brand new comforter!! I'm beyond happy with the results!! Amazing and Thank you! I will be recommending you to family and friends …
The Pick Up and Delivery service is awesome. My other classmates (in town for training) are impressed and will be signing up…
New customer to the pickup and delivery service for our family. Laundry is now as easy as can be!!! They returned it, and it was all clean AND folded. Will keep using them. Hope they will add a "put it away in drawers" addition as that is now all I have to do !
Columbus Express Laundry is amazing 5-star service all around! I use their services for my local Airbnb's and quality laundry services are key to running a short-term rental business. From day one the communication was very easy. They were able to accommodate all of my request. I can trust that the staff will ensure my laundry is clean for my next guest. I will always use Columbus Express for my laundry needs and recommend them to all that host!
They were my FIRST and only option for drop off linen service for my business. I spent days researching other facilities and after speaking with a friendly representative from Columbus Express Laundry my mind was made up. The staff are very professional and personable. I also appreciate their willingness to accommodate special requests without hesitation. They go ABOVE AND BEYOND and are a very important part of my success. I highly recommend.